Buffalo Grove Home Security System
---
ALERT PROTECTIVE RESIDENTIAL SECURITY SYSTEMS of BUFFALO GROVE
---
If you are looking for a home security company in Buffalo Grove, look no further than Alert Protective Services. We have helped home and business owners get the alarm systems they need since 1982. Our Chicago-based business takes our job of installing home alarms seriously. We can provide you with products like a wireless home alarm or security alarm systems built for commercial use for a great price. When buying home security systems monitoring, you need the peace of mind knowing the company you use is located close by. We serve the people of Buffalo Grove and the surrounding areas because this is where our team lives and works. Our home alarm systems are built to last and will work as intended due to our detail-oriented installation process. Choosing our alarm company for this type of work gives you access to a high-quality alarm without paying too much for it.
Buffalo Grove, located in northwest suburban Cook and Lake Counties, has a population of 43,734 residents. In 2009, it was listed as number 65 on the annual list published in "Money" as one of America's Best Places to Live. Being listed as one of the best places to live in 2009, you might not think of Buffalo Grove as an area affected by crime. However, its average crime rate is 68 incidents per square mile. This is relatively high compared to the national crime rate average of 49.6 per square mile. The property crime rate in Buffalo Grove is 3.74 per 1000 residents or 1 out of every 268 residents. Last year, 501 of residents were affected by property crime, whereas, only 20 were victims of violent crimes. Property crime is the area of most concern, especially when you consider the high standard of living in the community. Without a dependable home security system, residents are particularly vulnerable to home invasion and burglary. Buffalo Grove is frequently targeted by burglars. Everyone should have a home security system in place to protect themselves and their families from these threats.
Are you in the market for an interactive home security alarm? Being able to control the various elements of a home security system with your mobile device is easy when you work with Alert Protective Services. We have installed a number of these interactive home security systems for homeowners all over the Buffalo Grove area. Security systems for your home help keep your family and your valuable items safe. Instead of worrying about what is going on at your home while you are away, you can have peace of mind everything is safe. We offer video doorbells, smart thermostats, security cameras, surveillance cameras and much more. Give us a call today to schedule a consultation so you can find out more about the services we can provide. Our team can offer the guidance needed to choose the best security system to fit your needs.
Buffalo Grove Property Crime Statistics
---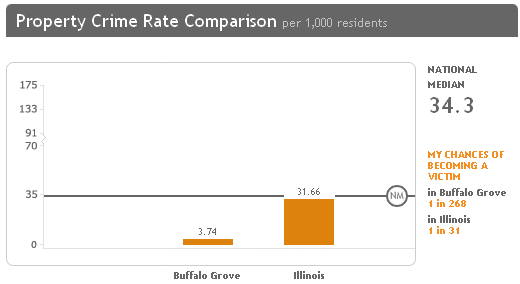 The highly qualified and certified professionals at Alert Protective Services can offer a wide range of products and services including, but not limited to:
Business Alarm Systems
Home Alarm Systems
Fire Alarms
Surveillance Equipment
Central Vacuum Systems
Door Access Systems
Intercom Systems
Pre-wiring Consultation