Calumet City Home Security Systems
---
ALERT PROTECTIVE RESIDENTIAL SECURITY SYSTEMS of CALUMET CITY
---
Ever wonder why Alert Protective Services is Chicago land's favorite choice for home security systems? It's because we have been working hard since 1982 to provide the best security products for our friends and neighbors in the area. Yes, that's right, our company is locally owned and operated, and our owners and employees live and work throughout the greater Chicago just like our customers. We are also available to service our patrons 24 hours a day, 7 days each week. For over 27 years we've been standing behind our products and services. Not only are our products and services affordable, but we continue to grow our business year after year because our trusting customers recommend us to their friends, family and neighbors. Ask our experts about our award-winning reputation. We have repeatedly been recognized by Angie's List for the Super Service Award and the Better Business Bureau for the Complaint Free Award. Call us today to find out how you can further safeguard your family and business by allowing our consultants to custom design a security system perfect for your needs and your budget. Many of our customers are from Calumet City, IL and have never been disappointed in our exceptional products and services. We know exactly what security risks residents of Calumet City deal with and how to reduce and eliminate these risks.
Calumet City, IL is located 22 miles south of Chicago in Cook County. In 1924, West Hammond officially changed its name to Calumet City. The town has a population of 39,072 residents, 15,139 households, and 10,006 families. The top four European ancestries, Polish, German, Irish, and Italian, account for 28.1% of the population. Calumet City has a median family income of $45,998 and 12.2% of the population is below the poverty line. Crime is becoming more and more common in Calumet City. In the past year, there was an average of 306 crimes committed per square mile, six times the national average or 49.6 and three times the Illinois average of 104. There were a total of 2,258 crimes reported last year in Calumet City. 2,011 were property related thefts and burglaries and 247 were violent crimes. Residents of Calumet City stand a far greater risk of being a victim of a theft or burglary, than a violent crime. The chance of being a victim violent crime is 1 in 158 and the chance of a theft or burglary is 1 in 19. All residents should have one of APS's professional technicians come out and identify your home security risks and answer any questions or concerns you may have. Besides the safety a security system provides, most insurance companies offer discounts for homes with security systems. A recent study done by the FBI found: "You are 15 times less likely to be burglarized if you have a security system in your home."
Your security system is your first line of defense against home and workplace invasion. It is the best means of protecting your family and employees from intruders. At Alert Protective Services, we always put you first. Our job isn't complete until you feel that you are satisfied with the level of protection. We customize state-of-the-art monitoring systems to respond to your specific home or business needs. One of our major advantages is that we not only customized your security system for you needs, but we also customize it to fit into your budget. Call one of our professionals today to learn more about the best security systems in Chicago – Alert Protective Service.
Calumet City Property Crime Statistics
---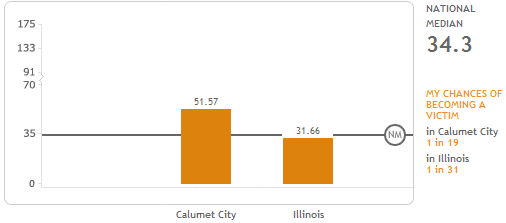 Here are just a few of the top-of-the-line products and services available to the residents of Calumet City:
Home Alarms
Business Alarms
Fire Alarms
Intercom Systems
Central Vacuum Systems
Door Access Systems
Pre-wiring Consultation
Surveillance Equipment