Darien Home Security Systems
---
ALERT PROTECTIVE RESIDENTIAL SECURITY SYSTEMS of DARIEN
---
Since 1982, Alert Protective Services has been Chicago's premier, locally owned and operated source for alarm security systems and home monitoring systems. They have been providing unparalleled service to thousands of homes and businesses for the last 28 years. Alert Protective Services is Chicago based. Its owners, operators, and installers all live within the area. Customers can be relaxed knowing that they don't have to worry about out-of-town management and support. APS is always there when you need them. They provide excellent service to ensure your family's and loved one's safety. Being family owned and operated, Alert Protective Services protects your family with the same level of protection that they use within their own homes. The professional at APS have excellent credentials and are fully licensed by the state. Residents of Darien can expect the same high level of satisfaction that all of APS's clients do. Alert Protective Services is highly equipped to handle your entire home and business security needs. Residents of Darien can relax knowing that the professionals at APS provide unparalleled 24 hour-a-day support on all their equipment.
Darien is located west of downtown Chicago in DuPage County. It was said to have been named after a town in Connecticut. The town has a population of 22,860 people and there are 8,735 households. The median household income in Darien is $78,122 and it continues to rise each year. Residents of Darien do see their fair share of crime. In the past year, there was an average of 69 crimes per square mile in Darien. This is relatively high compared to the national average of 49.6. Most crimes dealt with property thefts and burglaries. Out of the 418 crimes reported last year, there were only 13 violent crimes, and a staggering 403 property related crimes. Property crimes and thefts occur far more often and affect a greater number of residents. For instance in Darien, there is a 1 in 1484 chance that you will be a victim of a violent crime, whereas, you stand a 1 in 57 chance of being a victim of a property related crime. As a homeowner, you stand to suffer a great loss if your home is burglarized. The best way to protect yourself and your family from such danger is to have a home monitoring system installed in your home. Recently, a study was done by the FBI and they found that homes with a security system are 15 times less likely to be burglarized. Another benefit is that most homeowner insurance policies offer discounts for homes equipped with a home monitoring system.
Alert Protective Services offers a wide range of security systems designed to safeguard your family and possessions. APS offers round the clock support on all their home monitoring equipment. As a homeowner, you have peace of mind knowing that when you leave for work or on vacation, the professionals at APS are watching over your home. APS offer the top-of-the-line products and can develop a system that fits your needs and budget. Give them a call today to start protecting your loved ones and home.
Darien Property Crime Statistics
---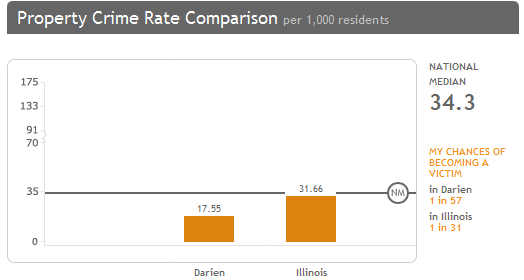 These are some of the products and services that Alert Protective Services offers to the residents of Darien:
Home Alarms
Business Alarms
Fire Alarms
Intercom Systems
Central Vacuum Systems
Door Access Systems
Pre-wiring Consultation
Surveillance Equipment