Des Plaines Home Security Systems
---
ALERT PROTECTIVE RESIDENTIAL SECURITY SYSTEMS of DES PLAINES
---
Alert Protective Services has been Chicago's premier, award-winning and locally operated source for your home security needs for the past 28 years. Since 1982, APS has been a leader in home and business security systems in Chicago and the surrounding areas. This family-owned company has been known for its exceptional products and services. Reliability is APS's goal. The owners and technicians all live within the Chicago land area and they know exactly what concerns local residents and businesses face. The biggest benefit of working with APS is that there is no out-of-town management. This leads to the most rapid and prompt service available. Along with prompt service, APS offers the highest quality of service and support to ensure the safety of your family and home. APS strives for customer satisfaction and loyalty. They make sure every customer receives the same high level of service and protection that they use within their own homes. Des Plaines' residents should know that the professionals at APS offer outstanding 24 hour-a-day support on all their products. Residents and businesses of Des Plaines can have peace of mind with the protection of Alert Protective Services.
Des Plaines is a city located in Cook County. The Des Plaines River runs through the city to the east of the downtown area. The city has a population of 58,720 and 22,362 households. Des Plaines is rich in heritage and tradition and conveniently adopted the official nickname of the "City of Destiny". It has a median household income of $53,638 and this value continues to grow every year. Des Plaines is a very diverse town with the largest majority being German, Polish, Irish, or Italian. Crime has been on the rise in recent years. Last year alone, there was an average of 94 crimes committed per square mile. This number is almost twice the national average of 49.6. To get a better understanding of what crimes are being committed, we look at last year's statistics. There were 1,360 crimes reported, 1,270 of which were property thefts or burglaries. Only 90 were violent crimes. The chance of being a victim of a violent crime is low, 1 in 655. However, the chance of being a victim of a property crime is 1 in 46. You can that property thefts and burglaries affect a far larger number of the population and they occur far more frequently. One of the best ways to lower your chance of being a victim is to have the professionals at APS outfit your home with a security system. All homes should have some form of monitoring system in place. Recently, the FBI performed a study and found that homes with a security system are15 times less likely to be burglarized. Another benefit of a home security system is that most homeowner insurance policies offer considerable discounts for homes with systems in place.
A security system is an essential item for your home and place of business. It may well be the most important item you purchase. Security systems not only protect your home and loved ones, they also provide you with the peace of mind you ought to have. APS has 24 hour-a-day support for all their customers. They are always there when you need them. Even while on vacation, you can rest easy knowing that the professionals at APS are looking over your home. APS offers a wide range of reliable security systems to fit any budget. Give APS a call today to get a free estimate on your home security needs.
Des Plaines Property Crime Statistics
---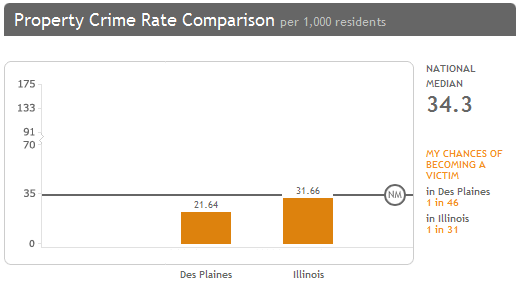 Here are some of the products and services that residents of Des Plaines are offered:
Home Alarms
Business Alarms
Fire Alarms
Intercom Systems
Central Vacuum Systems
Door Access Systems
Pre-wiring Consultation
Surveillance Equipment