Elk Grove Village Home Security Systems
---
ALERT PROTECTIVE RESIDENTIAL SECURITY SYSTEMS of ELK GROVE VILLAGE
---
Since 1982, Alert Protective Services has been the leading independent home and business security system provider to Chicagoans. Both homeowners and businesses have discovered that they can always rely upon Alert Protective Services for premier products and service. Our Chicagoland neighbors no longer need to trust their security needs to out-of-state providers, because they can have the Alert Protective Services owners and experts, who live and work in the greater Chicago area, do it for them. The Alert Protective Services specialists know and understand firsthand the specific security needs of Chicago homeowners and business-owners. Learn why more and more area residents and employers trust Alert Protective Services with their security requirements. Call one of our security consultants today to find out how Alert Protective Services can give you the peace of mind you deserve knowing that we're protecting your family and your business. At APS, the residents of Elk Grove Village are of our utmost concern, due to the fact that many of our employees are from the area. We know exactly what concerns the residents of Elk Grove Village face every day and we'll makes sure to reduce these risks.
Elk Grove Village, IL is a municipality located 22 miles northwest of downtown Chicago in. It is adjacent to O'Hare International Airport and the largest consolidated business park in North America, which has over 3,800 businesses in it.. The majority of Elk Grove Village is located in Cook County; however, a small portion is in DuPage County. Elk Grove Village has a population of 34,727 residents, 13,278 households, and 9,294 families. The village's top ancestry is German, making up 25.6% of the population. The median household income in Elk Grove Village is $62,132 and the median family income is $71,834. Violent crime isn't a major concern in Elk Grove Village, but the number of small thefts and burglaries has been rising over the years. Last year, there were 601 crimes reported. Only 23 were violent crimes, the rest were thefts or burglaries. The chance of a theft or burglary happening to you is 1 in 60. Residents of Elk Grove Village stand a far greater chance of being a victim of a theft or burglary than a violent crime. All homeowners should schedule an appointment for one of our professional technicians to come out and identify your home security risks and answer any questions or concerns you may have. Also, most homeowner insurance policies offer considerable discounts for homes with security systems installed. "Homes without security systems are 15 times more likely to be burglarized." -FBI
Alert Protective Services offers security equipment specifically developed to safeguard your family and your heirlooms in your home and the expensive inventory in your place of business. No matter if you're out of the office for the day or on vacation with your family, you can relax knowing that our experts at APS will watch over your home or office everyday, 365 days-a-year. We can design a security system that will not only meet all your expectations, but, also fit into your budget. Call our offices today for a free estimate and additional information on our state-of-the-art security systems.
Elk Grove Village Property Crime Statistics
---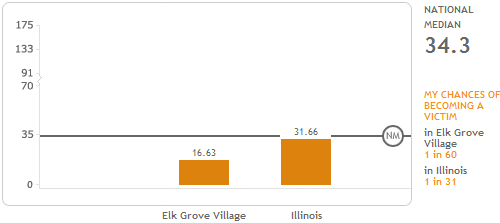 Here are just a few of the top-of-the-line products and services available to the residents of Elk Grove Village:
Home Alarms
Business Alarms
Fire Alarms
Intercom Systems
Central Vacuum Systems
Door Access Systems
Pre-wiring Consultation
Surveillance Equipment