Evanston Home Security Systems
---
ALERT PROTECTIVE RESIDENTIAL SECURITY SYSTEMS of EVANSTON
---
Providing protection for our customers is what we do best. It is our specialty. The professionals at Alert Protective Services, unlike out-of-state services, know and understand the specific security system needs of our neighbors and businesses in the Chicagoland area. Our APS specialists will adapt the security system you prefer to your exact requirements and budget. Give us a call right now and permit us to get you started on your way to a secure and safer home and office environment.
Is It Time to Get a Home Security System?
If you are like most homeowners, saving money is a top concern. There are some things you just can't put a price tag on like the safety of your family. The investment made in home security systems will be worth it considering how beneficial it can be. If there have been a number of break-ins in your area, you need to take action. The last thing you want is to be just another statistic. Failing to get increased protection for your home can lead to your valuable possessions being stolen.
Getting Your System Monitored
One of the best things you can do when installing home security systems in Evanston is getting monitoring as well. Allowing us to monitor your system is a great way to keep criminals at bay. If your home is broken into, the monitoring system will alert the authorities immediately. The faster they are able to arrive, the easier you will find it to keep your belongings safe. Having your system monitored can also save you money on homeowners insurance. Typically, an insurance company will give you up to a 20 percent discount on your policy with the addition of a home security system.
Evanston Property Crime Statistics
---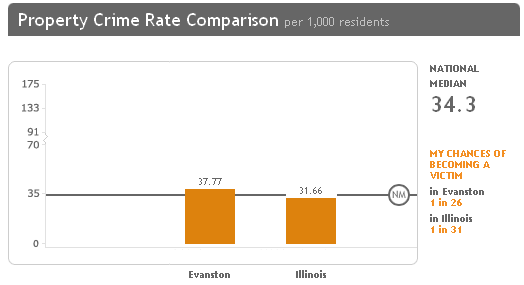 The highly qualified and certified professionals at Alert Protective Services can offer a wide range of products and services including, but not limited to:
Business Alarms
Home Alarms
Fire Alarms
Pre-wiring Consultation
Central Vacuum Systems(DELETE THIS)
Door Access Systems
Intercom Systems
Surveillance Camera Equipment
Smart Home Automation
If you are tired of worrying about the security of your home, it is time to call Alert Protective. Our team of experienced technicians will install your alarm system the right way without taking a long time to get the job done. We have provided homeowners in the Evanston area with quality alarm systems for years.