Forest Park Home Security Systems
---
ALERT PROTECTIVE RESIDENTIAL SECURITY SYSTEMS of FOREST PARK
---
Not only is Alert Protective Services the preferred choice of Chicagoland's customers who are in the market for residential and commercial security, but it is an accredited Better Business Bureau company with an A+ rating on a scale from F to A+. In addition to our topmost BBB ranking, we have also been the recipient of the Angie's List Super Service Award multiple times for our unmatched customer service. Our locally owned and operated company provides your home and business with the same kind of reliable security and monitoring service and installation as we do our own families. In addition, our sales and service come at a fair and reasonable price. Stop by our conveniently located store, or call our security experts today to get a free quote on your security needs. We know exactly how to handle the security risks that affect Forest Park, IL.
Forest Park, which was formerly Harlem, is a village located ten miles directly west of downtown Chicago in Cook County. Forest Park has a population of 15,688 residents, 7,632 households, and 3,480 separate families. The village has a median household income of $44,103 and a median family income of $52,611. About 6.3% of the 3,480 families and 7% of the population is below the poverty line. Forest Park residents have always has to deal with crime. Last year, there was an average of 342 crimes committed per square mile in Forest Park. Compared to the national average of 49.6 and the Illinois average of 104, this number is staggering. To get a better understanding of the types of crimes, we look at last year's statistics. There were 838 total crimes reported, 743 of which were thefts of burglaries. Only 95 were violent crimes. In truth, the chance of being a victim of a violent crime in Forest Park is 1 in 165, for a theft or burglary, it is 1 in 21. Residents of Forest Park are far more likely to be victimized by a theft or burglary, than a violent crime. Call APS and schedule a time for one of our professionals to come out and diagnose your home security needs and resolve any questions you may have. Besides the safety and comfort of a security system, they also save money on your homeowner's insurance. Most insurance companies offer considerable discounts to smart homeowners who have security systems. "Homes with security systems installed are 15 times less likely to be burglarized." – FBI
Home security systems are an excellent way to protect your family and loved ones from unforeseen dangers. Monitoring systems are devices purposely designed to alert you about a specific danger. Currently, there are tons of different brands and models on the market and it is difficult to decide which one is best for you. Our certified professionals have the knowledge and skill needed to customize a security system to fit your exact needs and budget. Next time you're choosing a security system, call one of our professional technicians for a free estimate and advice.
Forest Park Property Crime Statistics
---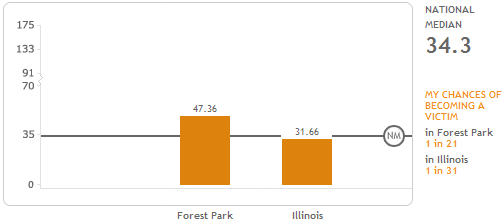 Here are just a few of the top-of-the-line products and services available to the residents of Forest Park:
Home Alarms
Business Alarms
Fire Alarms
Intercom Systems
Central Vacuum Systems
Door Access Systems
Pre-wiring Consultation
Surveillance Equipment