Hinsdale Home Security System
---
ALERT PROTECTIVE RESIDENTIAL SECURITY SYSTEMS of HINSDALE
---
Alert Protective Services is Chicago's premier, locally owned and operated source for alarm security systems and home security systems. Since 1982, they have been providing excellent service to thousands of Chicago-area homes, as well as, many local businesses. Alert Protective Services is solely Chicago based. Its owners, operators, and installers all live within the area, so our customers don't have to worry about out-of-town-management or monitoring. APS is always there when you need them. They provide a higher level of service to ensure your family's safety, along with the safety of the community. Being family owned and operated, Alert Protective Services protects your family with the same high level of protection that they use in their own homes. The professionals at Alert Protective Services know what it takes to protect home in large metropolitan areas, as well as, smaller communities such as Hinsdale. Residents of Hinsdale should feel at ease knowing that they will be provided with the same excellent 24 hours-a-day service and support, as those who live in downtown Chicago.
Hinsdale is a west suburb of Chicago, located partially in Cook County, but mainly in DuPage County. The town itself has a population of 17,349 who occupy 5,977 households. Hinsdale is known for its exceptional public school system, as well as, a rolling, wooded topography. Although, Hinsdale is considers mainly a white-collar village, crime is still on the rise. The average crime rate in Hinsdale is 41 incidents per square mile. This is slightly lower than the national average of 49.6 per square mile. This number has been steadily growing. A majority of these incidents are a result of property related crimes. The property crime rate in Hinsdale is 10.47 incidents per every 1,000 people, or 1 in every 96 residents will be victimized. This number has also been on the rise in recent years. As of last year, there were 189 crimes committed in Hinsdale. 183 of were property related and only 6 were violent crimes. Violent crimes are far more severe, but happen far less often. The biggest problem residents of Hinsdale face is the threat of burglary. Home security systems should be more common among home owners. A recent study done by the FBI found that homes with home security systems are 15 times less likely to become a victim of a burglary.
Alert Protective Services is a valuable investment in safety and security for both your family and your business. Our professionals have the kind of knowledge and expertise that you have come to expect from a Chicago land business that knows and understands the needs of its neighbors and businesses. Your safety and security is our main concern. The APS experts are available to help you decide the best and most economical security service for your needs. We don't sell a one-size-fits-all product; we are able to customize the system to your specifications. Give our service consultants a call today to get started on designing the best security system for you.
Hinsdale Property Crime Statistics
---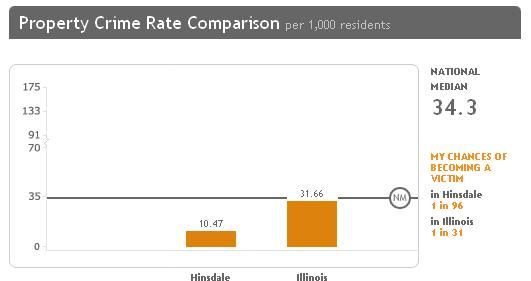 The highly qualified and certified professionals at Alert Protective Services can offer a wide range of products and services including, but not limited to:
Fire Alarms
Business Alarms
Home Alarms
Intercom Systems
Central Vacuum Systems
Door Access Systems
Surveillance Equipment
Pre-wiring Consultation