Arlington Heights Home Security System
---
ALERT PROTECTIVE RESIDENTIAL SECURITY SYSTEMS of ARLINGTON HEIGHTS
---
Since 1982, Alert Protective Services has been a leader in home security systems in the Chicago land area. They are Chicago's premier, locally owned and operated source for your home security needs. They have been providing exceptional service to thousands of Chicago-area homes and businesses. Alert Protective Services is completely Chicago based. Its owners, operators, and installers all live within the area, so our customers don't have to worry about out-of-town-management or monitoring. APS is always there when you need them. They provide a higher level of service to ensure your family's safety, as well as the safety of the community. Being family owned and operated, Alert Protective Services protects your family with the same high level of protection that they use in their own homes. Alert Protective Services ensures that the residents of Arlington Heights will receive exceptional 24 hour-a-day service and support, along with the highest quality of home security systems.
Arlington Heights is a village of 76,031 residents that resides in both, Cook and Lake Counties. It lies 25 miles northwest of Chicago's downtown. It is a suburban village with a big city atmosphere. Crime has been a problem in the past and it will continue to be. The crime rate in Arlington Heights is 83 incidents per square mile. This is high compared to the national average crime rate of 46.9 incidents per square mile. This may come as a surprise that there is so much crime in Arlington Heights. The same goes for property crimes. The property crime rate is 17.2 per every 1,000 residents, or 1 out of every 58 people will become a victim of property crime. Even though, this is lower than the national average of 34.3 per every 1,000 residents, there is still a need for concern. Last year alone, 1,309 of the 76,031 residents were affected by property crimes, whereas only 57 were affected by violent crimes. Property crimes may not be considered as shocking as violent crimes. However, as a whole, property crimes affect far more residents and far more often. Everyone should have a home security system to protect themselves against these types of crimes.
A security system is an electronic alarm designed to alert you to a specific danger. Home security systems are a means to ensure the safety of you, your family, and your loved ones while in your home. At Alert Protective Services, your safety is our top priority. Currently, there are many different types of home security systems on the market. It is hard to know which one is best for you. This can be a difficult decision, which is best left to the professionals at Alert Protective Services. Our company's employees have extensive knowledge of the different types of home security systems available, and which type will best meet your specific needs. Let the professionals at APS help you decide which of our products is best for you.
Arlington Heights Property Crime Statistics
---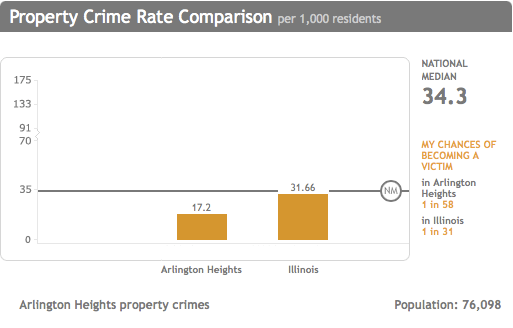 The highly qualified and certified professionals at Alert Protective Services can offer a wide range of products and services including, but not limited to:
Home Alarms
Business Alarms
Fire Alarms
Intercom Systems
Central Vacuum Systems
Door Access Systems
Pre-wiring Consultation
Surveillance Equipment