Cicero Home Security System
---
ALERT PROTECTIVE RESIDENTIAL SECURITY SYSTEMS of CICERO
---
Since 1982, Alert Protective Services has been Chicago's premier, locally owned and operated source for alarm security systems and home monitoring systems. They have been providing outstanding service to thousands of Chicago-area homes and businesses. Alert Protective Services is completely Chicago based. Its owners, operators, and installers all live within the area, so our customers don't have to worry about out-of-town-management or monitoring. APS is always there when you need them. They provide a higher level of service to ensure your family's safety, as well as the safety of the community. Being family owned and operated, Alert Protective Services protects your family with the same high level of protection that they use in their own homes. Alert Protective Services headquarters is located within ten miles of Cicero. Residents of Cicero will receive prompt service and support, due to the close proximity to the corporate headquarters.
Cicero is located just west of downtown Chicago. It is an incorporated town in Cook County with a population of 85,616 residents. The Cicero Township originally occupied six times its current territory. Due to weak political leadership and town services, towns such as Oak Park and Berwyn split from the Cicero Township. Cicero has always had crime problems, since the days of when Al Capone lived there. Today, crime is still very prevalent. The average crime rate in Cicero is 585 incidents per square mile. This is astonishing high compared to the national average of 49.6 incidents per square mile. The property crime rate is also high for the area. In Cicero, the property crime rate is 35.93 for every 1,000 residents, or 1 in every 28 people. Last year alone, there were 3,076 property related crimes reported out of the 85,616 residents. There was only 345 violent crimes reported in that same period. You can see that you stand a greater chance of being involved in a property related crime, than a violent one. Due to these statistics, more and more home owners are turning to home security systems to help ensure the safety of their family.
A security system is an electronic alarm designed to alert you to a specific danger. Home security systems are a means to ensure the safety of you, your family, and your loved ones. At Alert Protective Services, your safety is our top priority. Currently, there are many different types of home security systems on the market. It is hard to know which one is best for you. This can be a difficult decision, which is best left to the professionals at Alert Protective Services. Our company's employees have extensive knowledge of the different types of home security systems available, and which type will best meet your specific needs. Let the professionals at APS help you decide which of our products is best for you.
Cicero Property Crime Statistics
---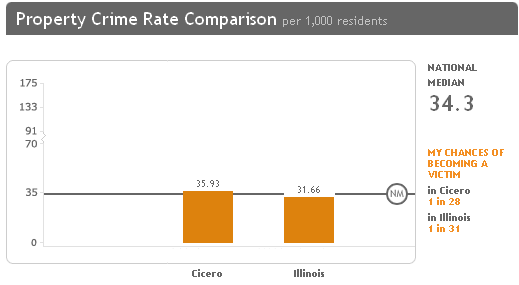 The highly qualified and certified professionals at Alert Protective Services can offer a wide range of products and services including, but not limited to:
Business Alarm Systems
Home Alarm Systems
Fire Alarms
Surveillance Equipment
Central Vacuum Systems
Door Access Systems
Intercom Systems
Pre-wiring Consultation