Oak Park Home Security Systems
---
ALERT PROTECTIVE RESIDENTIAL SECURITY SYSTEMS of OAK PARK
---
Alert Protective Services is Chicago's premier, award-winning and locally operated source for your home security needs. Since 1982, we have been a leader in home and business security systems in the Chicago land area. For the last 28 years, this family-owned company has been standing behind their exceptional products and services. Reliability is one of our highest priorities. The owners, operators, and technicians of this Chicago-based company know exactly how to minimize the safety concerns and problems local residents and businesses face on a daily basis. Another benefit to working with Alert Protective Services is that there is no out-of-town management. This ensures the most rapid and prompt service possible. We are always there when you need us. We provide a higher level of service to secure your family's safety, as well as the safety of the community. APS strives for customer satisfaction and loyalty. We treat every customer with the same high level of service and protection that we use to protect our own families. Residents of Oak Park 60301 can feel safe knowing that APS offers exceptional 24 hours a day service and support in their area. We provide homeowners with peace of mind knowing that their loved ones and homes are safe.
Oak Park is located directly west of Chicago in Cook County. Being so close to Chicago, Oak Park has direct access to the Chicago's public transportation network. Oak Park has a population of 52,524 residents, 23,079 households, and 12,970 different families. Oak Park is a very diverse city with a high population density. As with most areas with high density, crime is a frequent problem. In the last year, there was an average of 353 crimes per square mile in Oak Park. This is relatively high compared to Illinois' average of 104. There was a total of 1,661 crimes reported last year, 1,541 of which were property related. Only 120 were violent crimes. The chances being involved in a violent crime are 1 in every 437 people, whereas the chances of being involved in a property related crime are 1 in 34 people. Property crimes affect far more people and occur far more frequently in Oak Park. The best thing for a homeowner to do is to have one of our professionals diagnose your home security needs. All homes should have some form of home security system in place to protect their family and possessions. A recent study done by the FBI found that homes with security systems are 15 times less likely to be burglarized. Also, most homeowner insurance policies offer considerable discounts to homes with security systems in place.
Give our certified professionals the opportunity to assist you in selecting the best system for keeping your home and business secure. APS provides a variety of home and business security products. Currently, with so many different types of security systems on the market, it's often difficult to determine which system is exactly right for you. This decision is best made together with the skilled professionals at Alert Protective Services. They have the extensive knowledge needed to customize the system which best fits your needs and your budget. Let the experts at Alert Protective Services start protecting your family and business today.
Oak Park Property Crime Statistics
---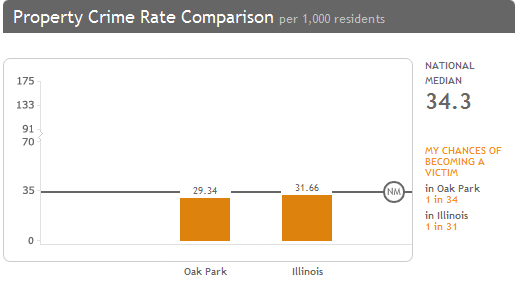 The highly qualified and certified professionals at Alert Protective Services can offer a wide range of products and services including, but not limited to:
Surveillance Camera Equipment
Central Vacuum Systems (DELETE THIS)
Smart Home and Business Automation
Pre-wiring Consultation
As you can see, the rate of property crime in Oak Park, IL, is slightly below the national median. However, it is slightly above the overall crime rate for the state of Illinois. This puts you at a slightly higher risk of suffering property loss. Each of the systems we design for your home is customized to fit the span of your needs. Whether need a fire alarm system to alert you or a surveillance system to monitor your property in and out, we can put together exactly what you need.
You have the power to choose what type of security system you want or need to protect your family. Do you need an alarm system? Perhaps you want a surveillance system that allows you to observe a nanny or other staff or just see your children when you are not home. Maybe you need to be able to monitor your home through a wireless connection or from a remote location. We build the whole security system based on your unique needs so you can rest at ease.
There are numerous components and security systems to choose from, as well as many factors to be considered. Our services include wired and wireless solutions, alarm systems, security cameras and options for monitoring your system, all at affordable prices. Rest easy at night, at home or away knowing your home is fully protected and monitored 24/7. With our state-of-the-art systems installed by qualified and highly trained technicians, you can have the peace of mind you deserve.
We Provide Oak Park Homeowners With Security Systems They Need!
Do you own a home in the Oak Park area? If so, keeping it protected is one of your main priorities. What better way to protect this investment than by getting security systems for the home. For years, Alert Protective has provided homeowners with the security alarms they need to keep their families safe. Our home security company has one goal, and that is making sure you are satisfied with the security systems we install.
A Great Deterrent for Crime
Most homeowners fail to realize how much of a deterrent having a home security alarm can be. Studies have shown areas where security system installations rise to have a sharp decrease in crime. If there has been a recent upswing of thefts in your area, having Alert Protective install a new alarm system is a great idea. We will find a system that fits your needs. Instead of leaving your valuables exposed due to a lack of security, let Alert Protective help you secure your residence.
Our 24/7 Monitoring
What makes us a great home security company is our commitment to providing top-notch service for competitive prices. Our 24/7 monitoring service is designed to ensure when a break in occurs; you get the help you need fast. As soon as we get a signal the alarm has been tripped, we go to work ensuring the proper authorities are contacted.
If you are in need of quality security systems for home, make your first call to Alert Protective. Contact us today to find out about the services we offer.