Maywood Home Security System
---
ALERT PROTECTIVE RESIDENTIAL SECURITY SYSTEMS of MAYWOOD
---
Our loyal customers have been choosing Alert Protective Services for their home security needs since 1982. Furthermore, our satisfied customers have helped us earn the Better Business Bureau Complaint Free Award and the Angie's List Super Service Award numerous times. Not only do they realize that our products are the top of the line, but they know that the APS people are fully knowledgeable about Chicago land security needs because the owners and operators are also from the Chicago land area. In addition, we are able to service our customers 24 hours-a-day and 7 days-a-week. You can relax knowing that your family and home are being protected by the foremost leader in home security products and services in the Chicago area, and that your home is 15 times less likely to be burglarized with our state-of-the art security system in place. Our professionals know exactly how to minimize the security risks that residents of Maywood, IL face from day-to-day. Many of our clients are from Maywood and have never been let down by our superior customer service and support.
Maywood, IL is a village in the Proviso Township, located 10 miles west of downtown Chicago in Cook County. It was originally founded in April 6, 1869. Maywood has a population of 26,987 residents, 7,937 households, and 6,151 families. Maywood is known for being a blue collar community. The median household income in Maywood is $41,942 and the median family income is $46,776. In total, about 13.4% of Maywood's population falls below the poverty line. Being such a blue collar community, Maywood experiences its fair share of crime. Last year, there was an average of 483 crimes committed per square mile in Maywood. This is nine times the national average, 49.6, and almost five times the Illinois average, 104. To get a better understanding of what types of crimes are most prevalent, we look to last year's crime statistics. There were a total of 1,303 crimes reported. Most of which, 1,137, were property related thefts or burglaries. Only 166 were violent crimes. In truth, thefts and burglaries affect far more residents of Maywood and they occur more frequently. You stand a 1 in 163 chance of being affected by a violent crime and a 1 in 24 chance of being a victim of a theft or burglary. Schedule an appointment with one of our certified technicians, so we can identify your home security risks and customize a security system to fit your needs. Also, most homeowner insurance policies offer discounts to homes with security systems.
The professionals at Alert Protective Services have found that the residents of Maywood want and deserve to be safe, secure, and have peace of mind. No matter if it's for your home or office, our professionals will design a efficient and purposeful security system to satisfy all of your needs. Our state-of-the-art technology will provide your family with the kind of protection necessary for your well being. Call one of our security consultants now, so we can start developing your personal, one-of-a-kind monitoring system.
Maywood Property Crime Statistics
---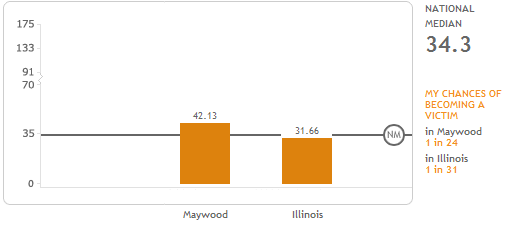 Here are just a few of the top-of-the-line products and services available to the residents of Maywood:
Home Alarms
Business Alarms
Fire Alarms
Intercom Systems
Central Vacuum Systems
Door Access Systems
Pre-wiring Consultation
Surveillance Equipment