Palatine Home Security Systems
---
ALERT PROTECTIVE RESIDENTIAL SECURITY SYSTEMS of PALATINE
---
Alert Protective Services is Chicago's premier, award-winning and locally operated source for
your home security needs. Since 1982, APS has been a leader in home and business security
systems in the Chicago land area. For the last 28 years, this family-owned company has been
standing behind their exceptional products and services. Reliability is one of APS's highest
priorities. The owners, operators, and technicians of this Chicago-based company know exactly
how to minimize the safety concerns and problems local residents and businesses face on a daily
basis. Another benefit to working with Alert Protective Services is that there is no out-of-town
management. This ensures the most rapid and prompt service possible. APS is always there
when you need them. They provide a higher level of service to secure your family's safety, as
well as the safety of the community. APS strives for customer satisfaction and loyalty. They
treat every customer with the same high level of service and protection that they use to protect
their own families. Residents of Palatine 60038 can be at ease knowing that the professional
at APS offer the same high level of service in their area. APS is known for their exceptional
24 hour a day support. It's their goal to provide your family with peace of mind knowing your
home is safe.
Palatine is a northwestern residential suburb of Chicago. It is a village that resides in Cook
County. It is the sixth largest community in Cook County with a population of 65,479 residents.
There are approximately 25,518 different household and 16,586 families in Palatine. Palatine's
town outline oddly resembles the head of an axe. Flooding frequents the areas, due to its
position originally on a wooded marshland. Despite the flooding, Palatine is a fairly high
population density. Crime has been on the rise in recent years and will continue to grow.
Homeowners should be aware of the statistics. Last year, there was an average of 122 crimes
committed per square mile in Palatine. This number is slightly higher than the Illinois average
of 104. In total, there were 1,594 crimes reported last year. 1,494 were property related crimes
and there were only 100 violent crimes. The chances are considerably higher than you will
be involved in a property related crime, 1 in 44 people, compared to a violent crime, 1 in 650
people. The best thing to better protect yourself from both types of crime is to have some form
of home security system in place in your home. A recent study done by the FBI found that
homes with security systems are 15 times less likely to be burglarized. Also, most homeowner
insurance policies offer considerable discounts to homes with security systems in place.
Give our certified professionals the opportunity to assist you in selecting the best system for
keeping your home and business secure. APS provides a variety of home and business security
products. Currently, with so many different types of security systems on the market, it's often
difficult to determine which system is exactly right for you. This decision is best made together
with the skilled professionals at Alert Protective Services. They have the extensive knowledge
needed to customize the system which best fits your needs and your budget. Let the experts at
Alert Protective Services start protecting your family and business today.
Palatine Property Crime Statistics
---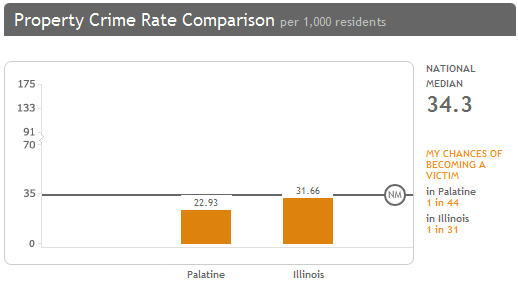 The highly qualified and certified professionals at Alert Protective Services can offer a wide range of products and services including, but not limited to:
Home Alarms
Business Alarms
Fire Alarms
Surveillance Equipment
Central Vacuum Systems
Door Access Systems