River Forest Home Security Systems
---
ALERT PROTECTIVE RESIDENTIAL SECURITY SYSTEMS of RIVER FOREST
---
Alert Protective Services, Inc. has been protecting the residents of River Forest, IL for over 28 years. Security systems are a great way to protect your home, family, and/or business. Before purchasing a security system, there are a lot of questions that you need to ask yourself. Here are some of the most important ones to consider.
Which Service Provider to Go With?
First of all, the professionals at Alert Protective Services provide exceptional service and the highest quality products. They are fully equipped to handle all of your home and business security questions and concerns. APS is solely Chicago based and they know exactly how to handle the problems local residents of River Forest, IL face on a daily a basis. They strive for customer satisfaction and take the time to handle any questions you may have.
How Will It Be Monitored?
To begin with, APS provides 24 hour-a- day service and support for the residents of River Forest, IL. They offer reliable, 24/7 security system monitoring for less than a dollar a day. Alert Protective Services has the ability to monitor alarm systems of nearly any make or model including: Napco, Ademco, Honeywell, G.E., DSC, ADT, FBII, Safewatch, Firelite, Silent Knight and many more. They not only monitor equipment their own equipment, but they also will also be happy to monitor any security system installed by another provider. APS is most likely already monitoring someone in your neighborhood's security system.
What Type of Security System?
This may be the most important decision when it comes to purchasing a security system. There are so many different types of security systems, it can become confusing. Residents of River Forest, IL should have a professional come out to their home and analyze their specific home security needs. One of the most commonly installed indoor alarms is the Passive InfraRed Detectors, due to its affordability and reliable functionality. The term passive refers to its ability to function without needing to generate its own energy. Passive InfraRed Detectors look for changes in temperature caused by the presence of an object. These are the most commonly installed security systems in the Chicago land area, especially in River Forest, IL. APS has most likely already installed one of these systems in your neighborhood.
The only thing left to do is to give Alert Protective Services a call today to schedule an appointment to have one of our professionals evaluate your specific home security needs. A security system is the most important investment you'll make in your home.
River Forest Property Crime Statistics
---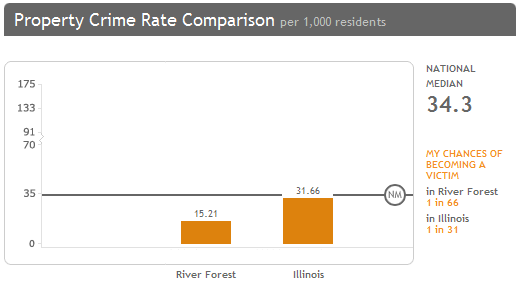 The highly qualified and certified professionals at Alert Protective Services can offer a wide range of products and services including, but not limited to:
Business Alarms
Surveillance Equipment
Central Vacuum Systems
Door Access Systems
Intercom Systems
Pre-wiring Consultation