Westmont Home Security Systems
---
ALERT PROTECTIVE RESIDENTIAL SECURITY SYSTEMS of WESTMONT
---
Upon opening in 1982, Alert Protective Services has been Chicago's, locally owned and operated source for business alarm systems and home monitoring equipment. They have been providing exceptional service to thousands of Chicago-area homes and businesses for the past 28 years. The professional at Alert Protective Services have outstanding credentials and are fully licensed with the state to handle any questions you may have. Alert Protective Services is based in the Chicago land area. All of their employees, from the owners to the technicians, live in the area and they know exactly what problems local residents face on a daily basis. Another benefit of our headquarters being in Chicago is that with APS there is no out-of-town-management. APS will always be there whenever you need them, no matter the time or day. They provide exceptional 24 hour-a-day service and support on all their products. APS protects your family with the same quality of products that they use in their own homes. Alert Protective Services will provide residents of Westmont with the same level of professionalism and dedication that all of our customers receive, along with a variety of the best home monitoring equipment available.
The village of Westmont is located 22 miles west of the Chicago Loop. It resides in the southeastern portion of DuPage County. Westmont encompasses six square miles and has a population of 26,211. There are a total of 9,900 different households in Westmont. The village has a median household income of $51,422 and an average home value of $180,200. Crime has become a growing concern for the residents of Westmont, especially burglaries. Last year, there was an average of 154 crimes committed per square mile in Westmont. In total, there were 1,165 crimes reported. 1,097 of which were property related thefts or burglaries and only 68 were violent crimes. You stand a far greater chance of being a victim of a theft or burglary, 1 in 51, than that of a violent crime, 1 in 831. Every homeowner in Westmont should have a professional from APS come to their home and identify their home security needs. In today's day and age, all homes should have security systems installed. They not only protect your family, but also your wallet. Most homeowner insurance policies give discounts to residents who have security systems in their homes. The FBI recently discovered that homes with security systems are 15 times less likely to be broken into.
We at Alert Protective Services are dedicated to customizing the best security and monitoring systems for you that will protect your family and safeguard your office equipment and inventory. You can trust the care of your home and office every day, all day, 365 days of the year, to the experts at APS, knowing that they will be looking after your assets while you are on vacation or out of the office. Call us today for a free estimate and additional information on our top-of-the line security systems designed with your needs in mind.
Westmont Property Crime Statistics
---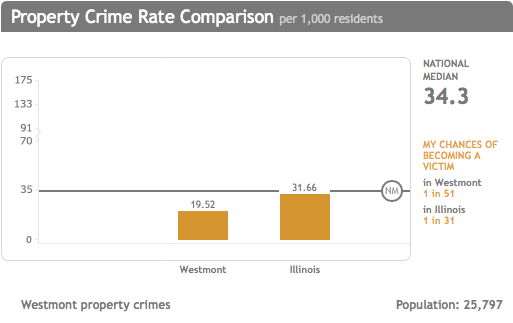 Residents of Westmont are entitled to a variety of APS's premium products and service, including, but not limited to:
Home Security Alarms
Business Alarm Systems
Commercial Fire Alarms
Intercom Equipment
Central Vacuum Systems
Door Access Systems
Pre-installation Consultation
Commercial Surveillance Equipment