Wheaton Home Security Systems
---
ALERT PROTECTIVE RESIDENTIAL SECURITY SYSTEMS of WHEATON
---
Alert Protective Services is Chicago's locally owned and operated source for home monitoring systems and business security alarms. Since 1982, they have provided excellent service to thousands of Chicago-area homes and businesses. Our professionals have excellent credentials and are fully licensed by the state to handle any of your security concerns. One benefit of APS is that we are fully Chicago based; there is no need to worry about out-of-town-management. APS will always be there whenever you need them. All of our employees, from the owner to the technicians, live in the areas and they know what concerns local residents face each and every day. APS provides exceptional 24 hour-a-day service and support on all their top-of-the-line products. Customer satisfaction and loyalty has always been a staple of how APS does business. Our customers are provided with the same level of protection that our employees use within their own homes. APS can provide the residents of Wheaton with the same protection that all of our customers have grown to love. In recent years, the number of burglaries in Wheaton has risen and our professionals know exactly how to minimize these risks.
Wheaton is the county seat of DuPage County, located 25 miles west of Chicago. The community has a population of 55,416 residents and 19,377 different households. In 2010, the city was listed among the "Top 25 Highest Earning Towns" by CNN Money magazine. Wheaton has an average family income is $113,517. Although, Wheaton has a high standard of living, the area is commonly affected by crime. Residents of Wheaton stand to lose the most in the event of a burglary. Last year, there was an average of 94 crimes committed per square mile in Wheaton. In total, there were 1,069 reported in 2009. Most of which, 1,021, were property related thefts or burglaries. Only 48 out of the 1,061 were violent crimes. Thefts and burglaries are far more common and affect many more residents of Wheaton than violent crimes do. The chance of being involved in a violent crime is 1 in 1164 and the chance of being a victim of a theft or burglary is 1 in 54. Homeowners should be aware of these statistics and should have a professional from APS come and diagnose your home security needs and concerns. Along with protecting your family, most homeowner insurance policies offer discounts to homes with security systems. Recently, there was a study conducted by the FBI and it was uncovered that if your home has a security system, you are 15 times less likely to be burglarized.
The professionals at Alert Protective Services are committed to helping you give your family and employees the safety and security they deserve. We at APS know that choosing the right security system to protect the people you love and the business you've dedicated your life to building is one of the most important decisions you will ever make. That's why we take the mystery out of selecting our products. Call us today to get the exceptional monitoring and security services you've come to expect from the experienced specialists at Alert Protective Services. We will assist you creating a state-of the art system created specifically for your needs.
Wheaton Property Crime Statistics
---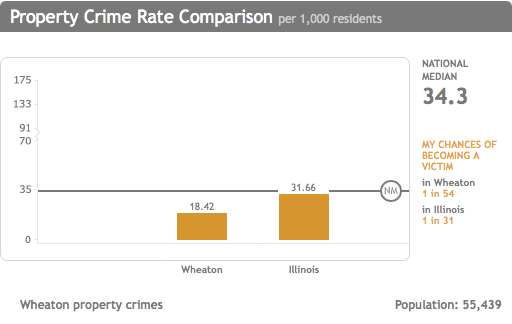 Residents of Wheaton are entitled to many different products and services that APS has to offer, including, but not limited to:
Home Security Systems
Business Alarm Systems
Home Alarm Monitoring
Home Audio, Video and Wiring
Home and Commercial Intercoms
Commercial Fire Alarms
Door Access Systems
Low Voltage Alarm Installation